Turkish hammam is one of Turkish and Anatolian culture's most essential and unique element. These baths are notable for their deep historical roots and social significance. The foundations of this unique tradition date back to long before the Anatolian lands, all the way to ancient Roman times. However, Istanbul's historic baths represent the pinnacle of this tradition.
The Turkish hammam in Istanbul is a ritual for cleanliness and purification and social relaxation. The combination of hot water, basin, foam, and marble has refreshed people's minds and bodies.
Yet, the tradition of the bath extends back to the Roman Empire. In Rome, baths were an indispensable part of society. People not only cleansed themselves but also socialized, relaxed, and even debated politics.
The Byzantine Empire, also known as the Eastern Roman Empire, further enriched this tradition. The Byzantines adopted the Roman bath culture and added their unique interpretation.
With the Ottoman conquest of Istanbul, a magnificent blend of Turkish culture and Roman bath culture emerged. This rich culture still beats in the heart of Istanbul today. Istanbul has created its own unique culture by merging the bath traditions. This article will explore the most beautiful examples of Istanbul's historic baths.
If you are ready for this cleansing journey, let's get started!
Best Hammams in Istanbul
We've compiled a list of the hammams in Istanbul, each carrying the unique imprints. The options were so good that we struggled to narrow it down! Here are the top 10 baths in Istanbul where you can feel the warm touch of history:
Hurrem Sultan Hammam
Cagaloglu Hammam
Historical Galatasaray Hammam
Kilic Ali Pasa Hammam
Suleymaniye Hammam
Cinili Hammam
Cemberlitas Hammam
Gedikpasa Hammam
Catma Mescit Hammam
Aga Hammam
This concludes our top 10 list, but Istanbul offers much more regarding baths! We've gathered the most special Turkish hammams for you.
Historic Hammams on the European Side of Istanbul
Istanbul captivates with its historical texture, and the bath culture in the city's heart forms a separate attraction point. When one mentions the "historic baths of Istanbul," both sides of the city stand out. However, the European Side represents the pinnacle of this tradition. So, which baths on the European Side of Istanbul stand out?
Here are the best representatives of bath culture on Istanbul's European Side:
1. Turkish Hamam: Galatasaray Hammam
Located in the heart of Istanbul, on the historic streets of Beyoglu, Galatasaray Hammam has welcomed visitors since 1484. This unique structure was built during the reign of Sultan Bayezid II. It has been considered one of the most valuable parts of the bath culture for centuries.
Adjacent to Galatasaray School, you can feel warm touch of history in this historic bath. Details of tiled designs on the walls and the light filtering through the stained-glass ceiling offer visitors a visual and historical experience. Moreover, it's not only a favorite spot for local tourists but also international ones. It's worth mentioning that some scenes of the popular TV series "Magnificent Century" were filmed in this bath.
In short, Galatasaray Hammam is a must-visit stop for those who want to experience the warmth of history and the tradition of baths in the best possible way in Istanbul.

2. Turkish Hammam: Kilic Ali Pasa Hammam
We continue our list of famous baths in Istanbul with the historic Kilic Ali Pasa Hammam, which opened its doors in the 16th century and carries the name of Kilic Ali Pasa, one of the renowned admirals of the era. The hammam is a magnificent masterpiece by the celebrated architect Mimar Sinan.
This historic structure boasts the second-largest dome in Istanbul and is famous for its oculus-adorned domes that allow the passage of light.
After years of neglect and decay, the bath lay in ruins. However, it was meticulously restored to its former glory in 2012. The Hammam is open for women in the morning and men in the afternoon, offering massage options.
The Hammam is among Istanbul's favorite locations for locals and tourists. Unique options are also available for families with children, and the hammam has the character of a family bath.
By visiting this historic structure, you can encounter the architectural details reflecting Mimar Sinan's period of mastery and the atmosphere of the Ottoman Empire's opulent days. Kilic Ali Pasa Hammam awaits you for an unforgettable experience in Istanbul, both in terms of its historical texture and the services it offers.
3. Catma Mescit Hammam
The historic Catma Mescit Hammam is an architectural marvel designed by Mimar Sinan in 1533. This venue stands out for its luxury VIP services and is an ideal stop for those wishing to experience a different bath.
The traditional scrub-and-foam ritual takes on a new dimension here. Experts in Eastern massage techniques utilize the healing effects and touch to transform the ritual. If you wish to experience an Ottoman palace bath with a modern and luxurious touch and seek deep nourishment for body and soul, Catma Mescit Turkish Hammam is just for you!
4. Turkish Hamam: Aga Hammam
Near Taksim Square, Aga Hammam is one of Istanbul's most authentic and oldest Turkish baths. Built in 1454 by Sultan Mehmet, it was initially used exclusively by the sultans. New owners opened it to the public by the time of the Republic.
In addition to its historical texture, Aga Turkish Hammam is renowned for its luxury services. The bath offers a wide range of services, from peeling to oil massages, ensuring visitors have a genuine hammam experience. Don't miss this Istanbul public bath, which will become one of the unforgettable memories of your visit to Istanbul!
Historic Baths of the Istanbul Peninsula
When one used to speak of Istanbul, historic peninsula region came to mind. This area preserves its deep history and rich cultural heritage in every corner. Therefore, some of Istanbul's best hammams are on the historic peninsula. Let's continue with our list of landmark baths in Istanbul together:
5. Hurrem Sultan Hammam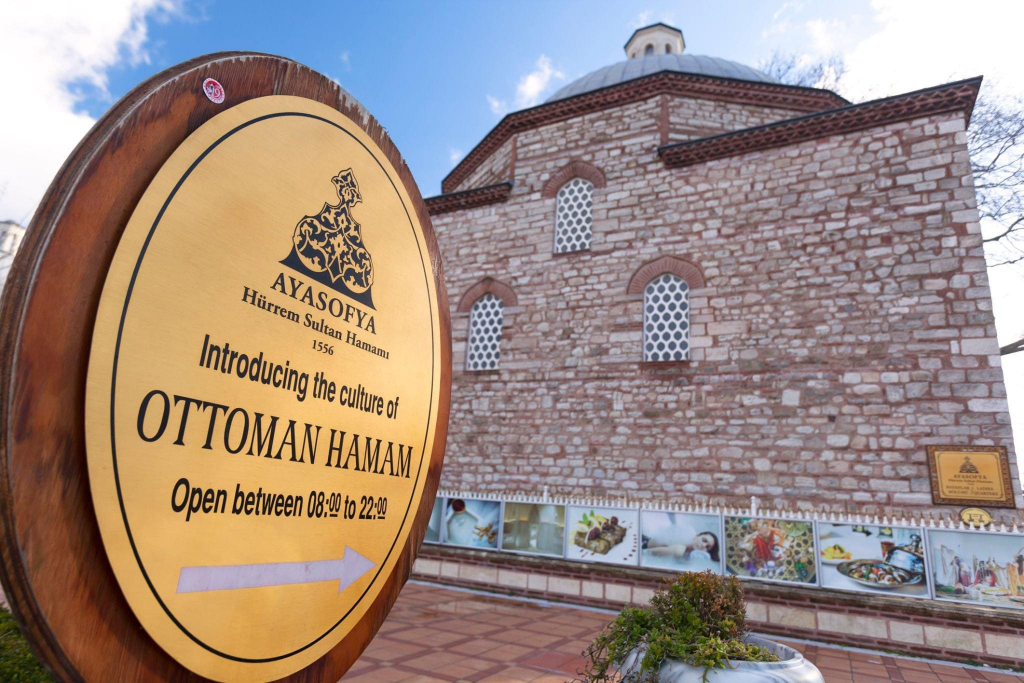 The historic Hurrem Sultan Hammam is between Hagia Sophia and the Blue Mosque. Carrying the name of Hurrem Sultan, this structure reflects the genius of the famous architect Mimar Sinan.
Built-in 1556, it is one of the most notable examples of Turkish bath architecture. It was used as a storage facility for a period, but it reopened in 2011. Spending time in this magnificent historic hammam will take you on a captivating journey through history.
6. Turkish Hamam: Cagaloglu Hammam
Cagaloglu Hammam holds a unique place in Istanbul's historic fabric. It was built in 1741 and is the last great bath during the Ottoman era. Its Baroque architecture and hot section designs that set it apart from classical Ottoman baths are noteworthy.
As Istanbul's largest bath, the 300-year-old Cagaloglu offers you a touch of the city's heart. It has separate sections for both women and men. Furthermore, it occupies the New York Times' "1000 Places to See Before You Die" list. This hammam is a must-visit stop for those who want to experience Ottoman experience.
7. Turkish Hamam: Cemberlitas Hammam
No list of Istanbul's baths would be complete without mentioning Cemberlitas Hammam! Built by Mimar Sinan, Cemberlitas Hammam is undoubtedly one of Istanbul's most prestigious baths. It is also known by the names Valide Sultan Hammam and Gul Hammam.
Especially noteworthy are the Ottoman-inscribed central stones inside. It serves both men and women with separate sections. The extraordinary architecture of the dome, together with beams of light filtering, creates captivating atmosphere. As an added note, celebrities like Russell Crowe have visited this hammam.
If you're looking for a memorable experience in Istanbul, Cemberlitas Hammam awaits you!
8. Suleymaniye Hammam
Located in Suleymaniye Mosque in Fatih, this bath is a work of Mimar Sinan. In addition, with separate sections, it offers visitors a unique hammam experience.
9. Gedikpasa Hammam
One of the oldest baths on the Historic Peninsula is Gedikpasa Hammam. It serves men and women and offers an experience to visitors with its historical texture. If you're in the Historical Peninsula and are seeking an authentic Turkish bath experience deeply rooted in history, Gedikpasa Hammam is a must-visit destination.
Historic Baths of Istanbul's Anatolian Side
While most of Istanbul's structures are on European side, the Anatolian side also hosts them. For those looking a hammam on the Anatolian side, here are some notable baths:
10. Turkish Hammam: Cinili Hammam
Among the baths in Istanbul, this unique structure frequently makes its name heard. Notably, it is famous for its eye-catching tiled decorations. Thus, this hammam presents a magnificent combination of Ottoman architecture and modern ceramic art. Cinili Hammam offers authentic Turkish bathing experience with its unique blend of traditional elements.
Bonus: Women-Only Hammams in Istanbul
Are there women-only hammams in Istanbul? The answer to this question is somewhat complex.
First, let's clarify: no hammams in Istanbul operate exclusively for women. However, this doesn't mean women can't comfortably enjoy a hammam experience. Many historic woman Turkish hammams in Istanbul allocate separate time slots for women and men. Generally, they offer services exclusively to women in the mornings and men in the evenings.
In addition, Istanbul has unisex hammams with common areas that serve both men and women simultaneously. In these hammams, all visitors can receive services simultaneously and in the same space. For example, the Suleymaniye Hammam, and Aga Hammam are among the unisex Istanbul hammams.

Istanbul is a city filled with history at every corner. Even the wind blowing through its streets seems to tell the stories of the past. Istanbul Turkish Hammams are perhaps this historical texture's most significant, warmest, and most intimate part. Whether on the hammam stones, in the steam rooms, or in the foam of the scrubbing mitt, each hammam is like a reflection.
It's impossible to fully grasp the essence of Istanbul without experiencing this unique ritual that refreshes the full body and soul. Every time you step through the door, you're taking a step into the unique history. Only leave on your next trip to Istanbul after experiencing one of these hammams, which invite you to history and tranquility!
The hammams offer an enchanting and rejuvenating experience like no other. As you step into the tranquil ambiance, you'll be greeted by the warmth of the hot room and the soothing embrace of the steam bath. With male attendants ensuring your relaxation, female attendants catering to the needs.
On the marble slab, you'll embark on a journey of self-care, shedding not only the layers of dead skin but also the stresses of life. Istanbul's hammams are timeless oasis where history and tradition blend with wellness, leaving you refreshed.
If you want to explore more, you can check 'Historical Places'.