Istanbul, where East meets West, is a city that never ceases to amaze. Its rich history, vibrant culture, and stunning architecture make it a top destination for travelers. This blog will explore why serviced apartments are ideal for those seeking a memorable experience.
The Allure of Serviced Apartments in Istanbul
Why choose a serviced apartment? For starters, they offer the comfort of home with the luxury of hotel-like services. These apartments provide flexibility, privacy, and space that hotels often can't match. Plus, they're usually more cost-effective, especially for more extended visits.
Looking for Serviced Apartments?

If you're looking for short-term rental apartments in Istanbul, check out Missafir Homes. Look at furnished rental apartments in Istanbul and choose the one that suits you best!
Serviced Apartments in Istanbul at Nisantasi!
Serviced Apartments with Missafir
Missafir offers serviced apartments in Istanbul, Turkey, catering to short and mid-term accommodation needs. These apartments are well-furnished and designed to provide a luxurious and comfortable living experience. Here are some critical details about Missafir's serviced apartments:
Locations and Options: Missafir provides a range of options in different areas of Istanbul.
Pricing and Features: The pricing of these apartments varies based on location, size, and amenities.
Services Offered: Missafir emphasizes providing a flawless accommodation experience. This commitment is reflected in their range of services, including professional photography and property owners' listing management.
Accessibility to Amenities: Some apartments are conveniently located near significant attractions or amenities.
Discovering the Perfect Neighborhood
Istanbul is a city of diverse neighborhoods, each with its charm. The city offers a range of locations for serviced apartments. Whether you're here for business trips, leisure, or cultural exploration, there's a neighborhood that's just right for you.
Do You Have Rental Serviced Apartments?

Home Away From Home: Amenities and Features
These apartments come fully furnished with all the modern amenities you could need. Think spacious living areas, fully-equipped kitchens, high-speed internet, and often, concierge services like laundry and housekeeping. It's like having your apartment in the heart of Istanbul.
Experiencing Istanbul: Local Living and Cultural Insights
Staying in a serviced apartment allows you to live like a local. You'll explore neighborhood markets, cook with local ingredients, and maybe even converse with your neighbors. It's an immersive experience that hotels often can't provide.
Serviced Apartments in Taksim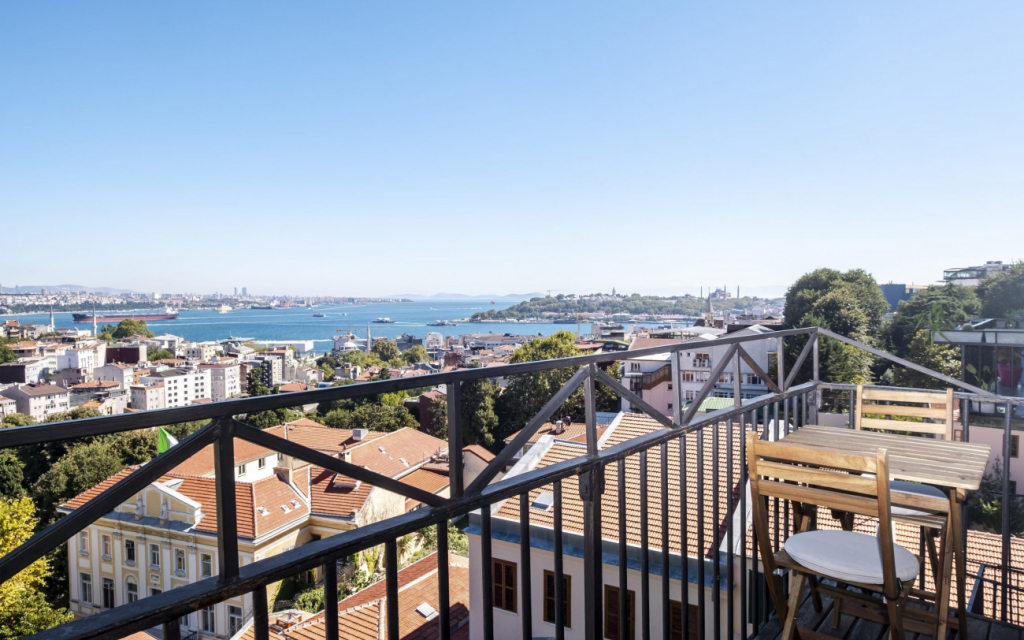 Budgeting Your Stay: Affordable to Luxury Options
Serviced apartments in Istanbul cater to all budgets. From cozy, economical options to opulent suites with breathtaking views, there's something for every pocket. And with a kitchen at your disposal, you can save on meals, too!
Traveler's Guide: Navigating and Enjoying Istanbul
Navigating Istanbul from your serviced apartment is easy. Most are centrally located, offering easy access to public transport, major attractions, and dining options. We'll share tips on getting around, must-visit spots and staying safe.
Maximizing Your Istanbul Journey
Your stay in serviced apartments is more than accommodation – it's part of your travel experience. Embrace the city's energy, indulge in its culinary delights, and soak in the rich culture. Istanbul awaits, and there's no better way to experience it than living like a local.
For business travelers, choosing the right serviced apartment is crucial for convenience and comfort. Many of these apartments are strategically located within walking distance of the city's bustling business district, making them ideal for long-term stays and frequent business engagements. Proximity to shopping malls is another advantage, allowing guests to access a variety of retail and dining options easily. Furthermore, these serviced apartments often come with hotel offers that cater to the needs of corporate visitors, including facilities like meeting rooms and high-speed internet.

Significantly, their locations are not limited to the European side of Istanbul; several options are available on the Asian side, known for its serene ambiance and conveniently close to key commercial areas. For international travelers, the ease of access to international airports is a significant consideration, and many serviced apartments are situated to ensure a hassle-free commute to and from these transport hubs. All these features combined make these apartments an excellent choice for business travelers. Those value efficiency, accessibility, and comfort in their accommodations.
Serviced Apartments in Kadikoy
In conclusion, Istanbul offers an array of accommodation options. That caters to every taste and budget, from the best-serviced apartments that blend comfort with culture to the luxury serviced apartments Istanbul is renowned for, perfect for those seeking an upscale experience. If you're considering a more extended stay, the variety of serviced apartments in Istanbul for rent provides both convenience and value. 
For a lavish retreat, the 5-star hotel apartments in Istanbul stand out as the epitome of elegance and luxury. For those who desire a stylish residential experience, the service apartments in Nisantasi offer a unique blend of local charm and modern amenities. Regardless of your choice, each option promises an unforgettable stay in Turkey's most enchanting city.