We are here with our article, ' Places to Visit in Istanbul Karakoy'! In Karakoy, you can see things such as art galleries, historical buildings, and street art.
Whether you want to spend your day with things to do in Karakoy or plan a tour with places to visit around Karakoy, the answer to the question of what to do in Karakoy ranges from walking by the seaside to visiting historical museums. To enrich your experiences in this unique district of Istanbul and to create your list of things to do in Karakoy, take a look at our guide!
Top 11 Places to Visit in Karakoy
Galata Tower
Galata Bridge
Galataport
Kamondo Stairs
French Passage
Istanbul Museum of Modern Art
Salt Galata
Karakoy Gulluoglu
Mukellef Karakoy
Koskeroglu Karakoy
Karakoy Breakfast Street
History of Karakoy
Karakoy is one of the oldest districts of Istanbul and has hosted many different cultures throughout history. Moreover, this historic area was recorded as Galata in ancient times and was an important trade area during the Byzantine Empire. In the 11th century, when Galata came under the dominion of the Genoese, it became an important trade bridge. The Galata Tower, built by the Genoese during this period, remains today, even though it is one of the most essential and ancient structures of its time.
After the Ottoman Empire conquered Istanbul, Galata acquired a multicultural structure. It became a region where various ethnic groups, such as Jews and Armenians, resided. In 1580, numerous banks, trade centers, and consulates were opened in Karakoy. Karakoy maintained its importance as a port area and became a modernization center.
Karakoy, once an important trade and finance center, has recently transformed into a social hub. Art galleries, modern cafes, restaurants, and nightclubs have made this area most popular districts. Karakoy has been a region where different cultures interact and where the heart of trade and social life beats. This diversity and richness can still be felt today in the streets, buildings of Karakoy.
Looking for an Apartment in Karakoy?

If you visit Karakoy, you can find many short-term home rental options. If you are looking for daily rental options in Karakoy, there are furnished apartments that you can rent with Missafir. For more information on this topic, you can visit our article titled 'Short-Term Home Rental.'"
The Most Beautiful Places to Visit in Karakoy
Karakoy captivates its visitors as a unique blend of history and modern life. Known as Galata before, this neighborhood attracts guests with its expansive harbor and cosmopolitan structure. From the Galata Tower to contemporary art galleries and chic cafes, Karakoy is like a mirror reflecting Istanbul's richness. Starting as a port area, it continues as a center where art converges.
1. Istanbul Karakoy Guide: Galata Tower
The Galata Tower, one of the city's renowned landmarks, is among the oldest structures. Its history dates back to the 6th century. Byzantine Emperor Anastasius built it and later restored it by the Genoese in 1348.
The tower stands at a height of 66.9 meters, offering a broad view. Visitors can enjoy the mesmerizing panorama of Istanbul from the building, which they can reach either by elevator or through its narrow, spiral staircase.
2. Galata Bridge
The Galata Bridge is one of Istanbul's iconic structures, spanning the Golden Horn and connecting Eminonu and Karakoy. The bridge's history dates back to the 19th century, and several versions have been constructed.
Galata Bridge is more than just a means of transportation. It's also a part of Istanbul's social and cultural life. The bridge features walking paths, fish market, fishermen, and a tram line. Additionally, its lower level houses a series of restaurants, cafes, and shops.
People fishing on the bridge have become a part of the city's daily life. Moreover, walks on the bridge offer some of the most beautiful views of Istanbul.
3. Istanbul Karakoy Guide: Galataport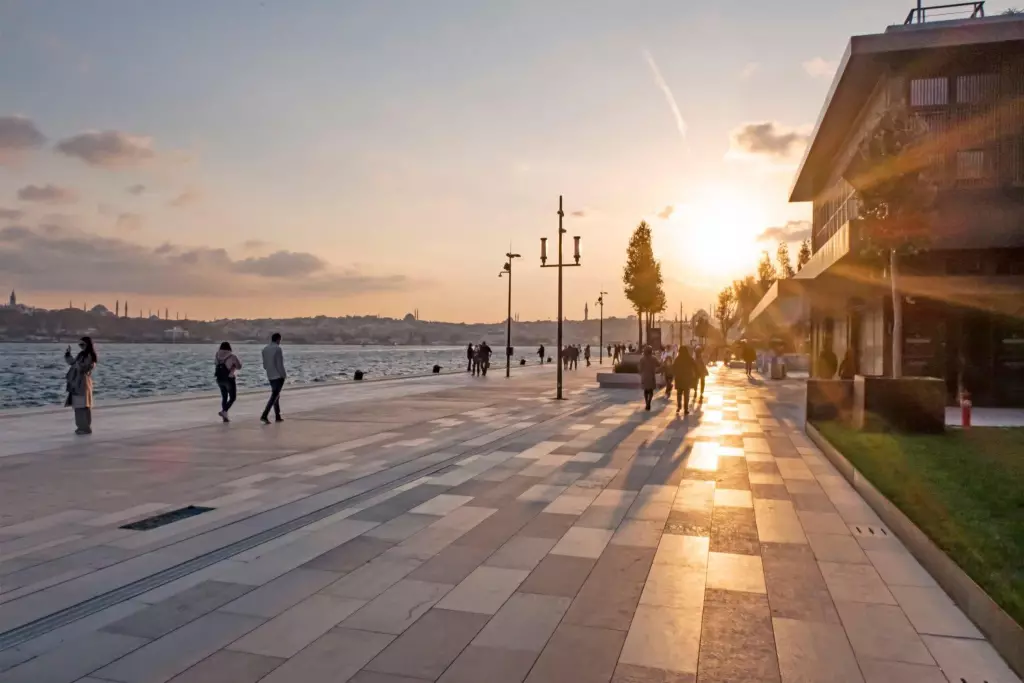 Galataport is a dynamic meeting point between sea and land in the Karakoy. This mixed-use project combines a modern cruise port with shopping, dining, office spaces, hotels, cultural art spaces, and public walkways. Designed as a cruise terminal opening its doors to global tourism, Galataport has become destination.
Enriched with shopping stores, boutiques, restaurants, and cafes, this area brings together local and international brands. Various galleries and exhibition spaces are offered for culture and art enthusiasts, transforming the region from a commercial center to a cultural and artistic destination.
Streets of Karakoy
One of the places to visit in Istanbul's Karakoy is its streets. Moreover, Karakoy is one of Istanbul's oldest and most historic districts, and its streets are like a time tunnel.
4. Istanbul Karakoy Guide: Kamondo Stairs
The Kamondo Stairs is a historic stairway that intriguingly connects Bankalar Street to Galata Street.
These remarkable stairs were built in the late 19th century during the Ottoman Empire period by the Kamondo family, a wealthy Jewish family residing in Istanbul. It is said that they commissioned the construction of these stairs to ease access to their businesses located on Bankalar Street.
The design of the Kamondo Stairs was influenced by the industrial developments in Europe. Its curved lines and elegant structure reflect the aesthetic understanding of the period.
5. Istanbul Karakoy Guide: French Passage
One of the intriguing streets in Karakoy is recognized as the French Passage. The architectural passage, which bears the influences of the European styles of its time, harmonizes with the historical texture of Karakoy. Its unique architecture and historical ambiance make it a popular spot for tourists and photographers. Furthermore, its various cultural events and art exhibitions have become a center of attraction.
Museums
One of the activities to do in Karaköy is visiting museums.
6. Istanbul Museum of Modern Art 
The Istanbul Museum of Modern Art was established in 2004 as Turkey's first museum for modern and contemporary art. It also hosts some of the leading works of contemporary art worldwide.
Temporary exhibitions regularly display works from international and local artists. Also reflect various aspects of the art world. Moreover, the museum's simple and functional architecture mirrors the spirit of modern art. The open spaces and expansive glass surfaces also allow natural light to flood in.
7. Istanbul Karakoy Guide: Salt Galata 
Salt Galata is an impressive cultural and art center on the historic Banks Street. It offers a wide range of content, from contemporary art exhibitions to design and architecture-related events. It provides visitors with an extensive library collection in art, architecture, and social sciences. Audrey Restaurant offers an experience that pleases both the eyes and the palate.
Cafes and Restaurants
Karakoy is one of Istanbul's most vibrant and historic districts. Additionally, cafes and restaurants in Karakoy offer a wide range of cuisines and atmospheres. Here are some popular cafes and restaurants you can visit in Karakoy:
8. Istanbul Karakoy Guide: Karakoy Gulluoglu 
Karakoy Gulluoglu, operating in the Karakoy since 1949, is Turkey's most renowned baklava shops. Managed by the Gulluoglu family, this historic store specializes in traditional Turkish desserts such as baklava, kadayif, and sobiyet. Sweets produced daily are prepared with high-quality ingredients and masterful hands. Especially notable are the various types of baklava, renowned for their layered pastry, natural oils, and quality walnuts.
9. Mukellef Karakoy 
Mukellef Karakoy offers a menu featuring traditional Turkish cuisine and dishes from global cuisines. The venue offers various dining options, named after the term "mukellef," which means a decadent spread. The brunch menu, in particular, is quite popular. Dishes made with local ingredients reflect traditional flavors. But are also presented with a modern touch.
10. Koskeroglu Karakoy 
Koskeroglu, a historic dessert shop in Karakoy, Istanbul, has been serving since 1949. It's particularly renowned for baklava and other traditional Turkish sweets. You can also find specialties such as kadayif, sobiyet, and Karakoy Turkish delight. Desserts prepared with conventional methods and fresh, high-quality ingredients are served in a nostalgic atmosphere.
11. Istanbul Karakoy Guide: Karakoy Breakfast Street 
Kemankes Karamustafa Pasha Avenue in Karakoy is one of Istanbul's most famous breakfast spots. A favorite for both locals and tourists, this street offers extensive breakfast options. From a classic Turkish breakfast to global cuisines, a rich menu is provided, including organic products, fresh vegetables, homemade jams, and various types of cheese.
Do You Have an Apartment in Karakoy?

Public Transportation to Karakoy 
Karakoy, one of the most central points in Istanbul, has easy and diverse transportation options. Moreover, this area, rich in tourism, can be accessed by tram, metro, and ferry. Here are the ways to get to Karakoy:
Tram
The Karakoy station on the T1 line makes it easy to reach Karakoy.
Metro
You can reach Karakoy by walking from the Sishane stop on the M2 line.
Ferry
It's possible to travel to Karakoy from the Anatolian side of Istanbul.
When planning a visit to Istanbul, the charm of Karakoy district shouldn't be overlooked. Located near the Istanbul Airport, visitors can take a bus from Istanbul Airport to Karakoy. Airbnb in Karakoy, Istanbul, provides a range of homely stays, reflecting essence of the Karakoy neighborhood. Food enthusiasts will find themselves spoilt for choice, with some of the best restaurants in Karakoy, Istanbul, offering a culinary journey that resonates with local and international flavors. Karakoy Istanbul's nightlife emerges with an electrifying energy as the sun sets, from chic bars to cozy cafes. Those who seek a more relaxed evening can dine at waterfront Karakoy Istanbul restaurants with views of the shimmering Bosphorus. There's a many things to do in Karakoy, Istanbul, making it a must-visit.