When strolling through the streets of Istanbul, it's hard to miss the breathtaking beauty of the historic apartments that grace the city's corners. These architectural wonders offer a glimpse into the past and embody the mystery of history. This article has compiled the fascinating stories of seven historic Istanbul apartments that delight history enthusiasts.
Do you wanna stay at historic apartments of Istanbul? Don't miss this chance:
Location of Historic Houses in Istanbul
Historic houses are scattered throughout Istanbul's districts, including Beyoglu, Sisli, Fatih, Balat, Eminonu, Kuzguncuk, Moda, and Sariyer. However, the Beyoglu district, also known as Pera, has the largest concentration of historic houses.
Frej Apartment: A Tragic Story of Two Lovers in a Pit
The Jugendstil-style Frej Apartment, built by the Greek architect Khyrikiadis in 1905. It is belonged to the wealthy Freige family. After the death of the elders of the family, the house was left to their daughter Angel. 
Angel married Feridun Dirimtekin, and the couple continued living in this house. Unfortunately, Feridun fell into a pit that the municipality had forgotten to close and passed away. Angel was later admitted to a psychiatric hospital and met a similar fate. Today, the building is home to the Faculty of Arts and Social Sciences of Istanbul Galata University.
Do you have a house to rent in Istanbul?
Discover Missafir wide range property management solutions to maximize your rental income.

Kamondo Building: A Tragic End for a Wealthy Sephardic Family
The Kamondo Apartmani, constructed in the 19th century. It was built for the wealthy Sephardic Kamondo family. The building is known for its beauty and has hosted famous artists such as Yasar Kemal, Orhan Veli, and Sait Faik.
Unfortunately, the family met a tragic end during World War II, leaving no descendants behind. The building remains a residence today and is located on Serdar-i Ekrem Street.
Sarica Apartment: Istanbul Historic Apartments
The Sarica Apartment, built by the Greek architect Constantine Pappa in 1903. It was commissioned by the Saricazade family, a wealthy family of military origin. After World War I, the British troops took over the building. They used it as their base. 
Later, the building served as an Armenian elementary school. Today, the Sarica family still owns the house, and its members continue to reside in it. The building is located in the Moda district in Caferaga.
Dogan Apartment: The Favorite Destination of Famous People
Dogan Apartment is one of Istanbul's most characteristic buildings, with its U-shaped design and bright yellow exterior. The building was built by the Italian architect Raymondo d'Aranco for Belgian banker Albert Helbig in 1894.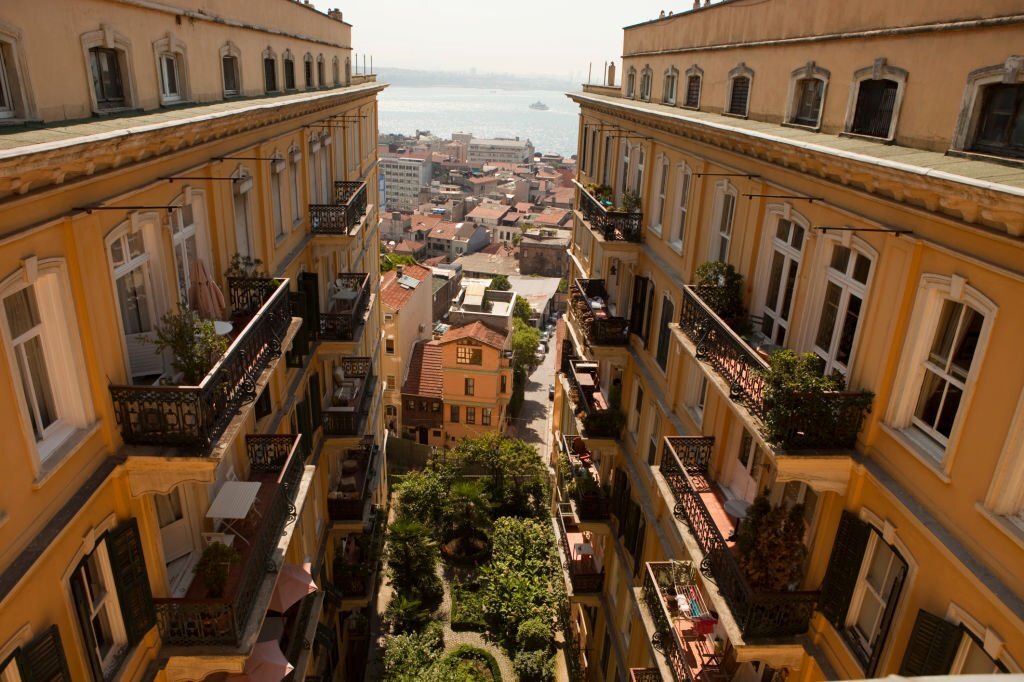 The apartment was also home to famous names. Some of them are Sener Sen, Sezen Aksu, and Okan Bayulgen. Today, it still serves as a residence; you can visit it with special permission. It is located on Serdar-i Ekrem Street.
Harikzedegan Houses: One of the First Examples of Social Housing
Harikzedegan Houses in Laleli were built in 1922. It was built for those left homeless after a major fire. Designed by architect Kemalettin Bey, the houses were Istanbul's first example of social housing. The houses were used as residences until 1985 and have since been converted into hotels.
Misir Apartment: The First Reinforced Concrete Building
Misir Apartment, built by Egyptian Abbas Halim Pasha in 1905-1910. It is one of the first concrete buildings in Istanbul. Designed by Armenian architect Hovsep Aznavuryan, it stands out from the city's wooden houses. The building has been home to many famous people, including M. Akif Ersoy, Sami Gürnzberg, and Ataturk's dentist. Misir Apartment is located on Istiklal Avenue. It continues to serve as a residence, office, restaurant, and art gallery.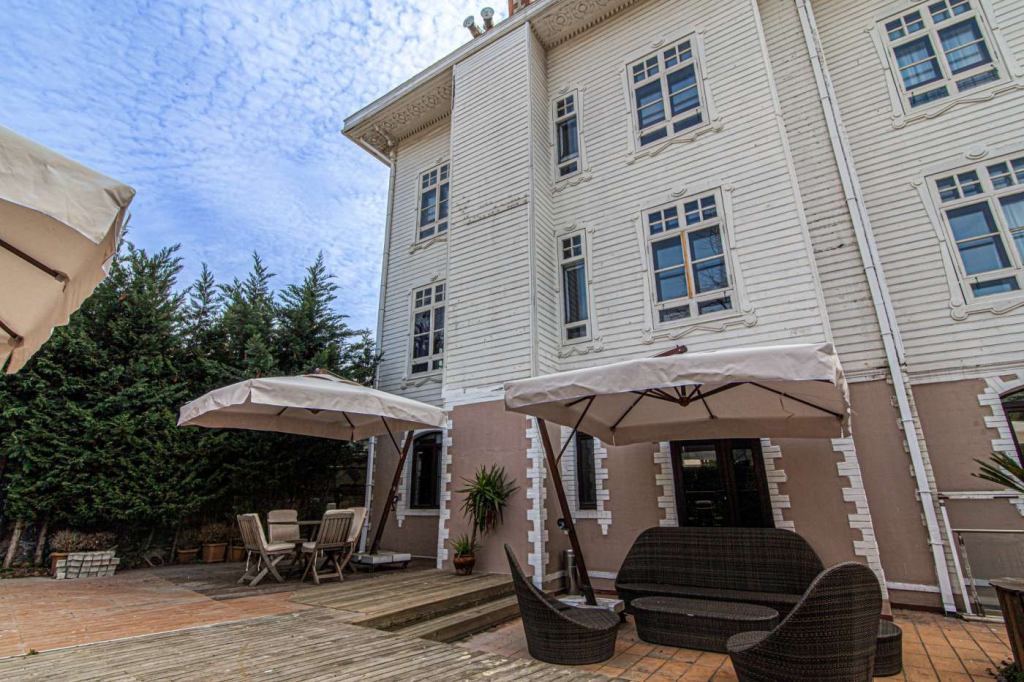 Bonus Story: Sakine Hanim Mansion, Istanbul Historic Apartments
In the Beylerbeyi neighborhood on the Bosphorus coastline, Sakine Hanim Mansion is a magnificent historic house built in the 19th century. After a restoration project in 2014, the mansion was transformed into a luxury boutique hotel. It has 13 separate living spaces decorated in the Neo-Ottoman style. To experience unforgettable nights in this extraordinary mansion, visit our Sakine Hanim Mansion reservation page.
Are you gonna rent a apartment in Istanbul? Don't forget to read our article!
Let's Discover Historic Istanbul Apartments!
Istanbul's historic houses offer a unique glimpse into the city's rich cultural heritage. These architectural wonders tell fascinating stories and embody the mystery of history. From tragic tales of lost lovers to the first example of social housing, these seven historic Istanbul apartments are a must-see for anyone interested in history and architecture.
What About Istanbul Historic Sites?
Istanbul, Turkey, is a city steeped in history, with roots dating back to the 6th century. The city has been home to empires, including the Ottoman Empire. It has been ruled by famous sultans like Mehmed II. Istanbul is also home to some of the world's most iconic landmarks. Such as Topkapı Palace, Hagia Sophia, and the Blue Mosque. 
Visitors can immerse themselves in the ancient Orient by visiting the Istanbul Archaeology Museum. It showcases artifacts from the city's rich history. The city's historic peninsula boasts many landmarks. Basilica Cistern, Grand Bazaar with its 4,000 shops and more…
Süleymaniye Mosque, which is famous for its unique floor plan. Istanbul has numerous World Heritage Sites and museums. One of them is Archaeological Museum and the Museum of the Orient. Visitors to Istanbul can experience a city that blends the old and new, with historic landmarks like the Sultan Mehmed II-era Topkapı Palace and the 19th-century Grand Bazaar coexisting alongside modern attractions.