Airbnb : Everything You Need to Know About Airbnb
What is Airbnb? How does it work? Is it safe? Is it legal to use it in Turkey? How do we rent out houses through Airbnb? How does Airbnb Tax system work? etc. in addition to these questions' answers, you will find tips for successful homeownership and accommodation. At the end of the article, you have a little surprise too! If you're ready, let's get started!
What is Airbnb? How It was founded?
Airbnb, which stands for "Airbed & Breakfast", is a platform offering home rental services. It is the world's largest alternative accommodation platform, bringing together those looking for a place to stay for short periods and those looking to rent out their homes. In 2007, when Brian Chesky, Joe Gebbia, and Nate Blecharczyk needed extra money from time to time, they decided to open a website to make money by welcoming people in their homes. Airbnb's mission, which became corporate in 2008, was to create a more beautiful world where people could travel locally, authentically and sustainably. Even though the main purpose was about creating a platform that provides cheap accommodation to travelers, after 10 years, Airbnb has become a popular platform that is used by not only travelers but many people from all around the world. This adventure that began in San Francisco has reached millions of people today.
Airbnb Turkey's General Statistics
In 2023, with over 150 million members, Airbnb operates in more than 100,000 cities across 220 countries and lists 6 million homes worldwide for its users. In 2023, an average of 6 guests check-in via Airbnb every second.
Airbnb's journey in Turkey, which began with 76 homes in 2010, has reached over 50,000 homes by 2023. There are currently over 19,000 hosts in Istanbul on Airbnb. The growth that gained momentum in 2014 has now become the fastest.
Since its entry to Turkey's market, Airbnb's average annual growth is 23%. Currently, there are only 19779 house advertisements in Istanbul. According to the Morgan Stanley study, 93% of people who use the Airbnb service are satisfied with the service they receive. Also, 53% of the users prefer Airbnb because it is cheaper than hotels.
Airbnb: How Does It Work?
Before showing each step of how to make reservations, to make sure everyone knows the same amount of information, we must relay every information about the Airbnb's system.
Airbnb mediates to meet people in the 2 different categories below:
People who are looking for short-term rental
People who want to rent out their apartments on short-term/temporarily.
It brings both parties together through the house ads they shared. These house ads are listed in 3 main titles according to different criteria.
Whole House
Private Room
Shared Room
Airbnb Whole House: Totally Independent Flat
All the houses, as it can be understood from its name are totally independent. It is like your own house but in a different place. the host gives you the key of the when you first check-in and the number of keys given might change if you're a group of people who want to get in and get out at different times however this is between you and your host.
You can enter and exit the house at any time as you wish as long as you obey the house's rules. In order to be in the "whole house" category, you have to have a kitchen in the flat. You can find anything from the oven, dishwasher to pots and pans. Sometimes you can even have really equipped flats that have main materials such as salt and pepper. All the houses on Airbnb also have a private bathroom. Otherwise, after renting the house you can make a complaint to the customer services about the matter and request a refund/get your money back.
The size of the flats can vary from 15m² small studio flats to 250m² flats.
Airbnb Private Room: Hotel-Like but Private House
When you rent out private rooms through Airbnb, you stay with the house owner. Most of the time, the room you stay in has a lock but not always. In general, private rooms are really affordable. When you are planning to visit an expensive country, they are the best option!
The disadvantage is sharing the common areas with the owner. We have to say, you do not need to hang out and chat with the landlord. The relationship level with the host can be clearly limited depending on you.
You can choose this way of traveling when you are traveling alone and want to meet new people. Generally, it is like staying in a hotel but the social part and other stuff are totally up to you.
Airbnb Shared Room: The System Where You Share Your Room

As you can understand from the name, this is the type of room where you share the room with someone. Most likely, you stay in the room with the host, but sometimes there might be another Airbnb guest who rented the same room.
We would not recommend this kind of accommodation If you are unaccommodating. Otherwise, if you don't care much about the comfort, take your chance by considering the possibility of meeting nice people.
Airbnb : Why Is It More Economic/Affordable?
What makes it possible for Airbnb to be more affordable than hotels is that the house you rent is run by private individuals, not by hotels.
When this is the case, you do not pay for the extra charges such as food and beverages. Although the prices are set freely by house hosts, Airbnb suggests an average price according to the house prices in the region your house is located in.
In this case, hosts who set a higher price than average, due to low demand, are obliged to lower their prices. And this is the indicator of why Airbnb is more affordable.
How Does Renting For Accommodation on Airbnb?
To help you make a booking, let's assume two people will be booking a house in Krakow, Poland for two nights. We will now show each step in the booking sequence in details.
Precondition: Create an Airbnb Account
If you don't have an Airbnb account already, you have to register before you can start booking. To do this, go to the Airbnb website and click on 'Register' (look at the red box at the top right in the screenshot underneath)
Choose a registration type (by using your email or Facebook). After creating an account by following the instructions go back to the Airbnb main page.
House Searching for Booking: Cities and Reservation Date
Now it is time for booking a house! After clicking on "Search", choose "Stays" box. As you can see from the screenshot underneath, you have the chance to search for different options/choices. "Experiences"  option shows you which kind of activities you can do and what kind of activities you can participate in the city you search for.

As for "Restaurants" option, it gives you info on the restaurants around the town. Click in accommodation and enter the city you want to go in search (green box in the screenshot above)
Map and Filtering
After searching, we choose the dates you want to stay in and how many people we'll have (in blue boxes).
Next to date and number of guests we see the "Type of Place" option. The type of the place as I explained previously, allows us to exclude houses that exceed your budget. Price refers to the houses in the range you specify. "Instant Reservation" can be used to filter out accommodations that do not require manual approval from the host.
Finally, the "More Filters" tab allows you to filter the number of bathrooms, Wi-Fi, whirlpool, pets, smoking freedom, washing machine, air conditioning, pool, etc.
At the bottom left we see filtered houses in the search results (more than 300 houses were listed in Krakow on these dates). In the right, we can see clearly where these houses are located on the map. With the (+-) button you can zoom in and out to focus on a more specific area.
Photos, Descriptions
Once you've selected your favorite house from the list or map in the area you want to stay, you should check that everything displayed in the advertisement is correct. Broadly speaking, Airbnb AD/announcement photos can be quite deceiving. Landlords can offer you misleading photos of their homes by editing the flaws or putting photos that don't reflect reality. Because of that, you must look at the photos carefully. Just being impressed by the view or decoration might disappoint you later on. It is a great benefit to look carefully at the details of the house. For instance: Does the paint on the walls peel off? What about the floor? Was the apartment recently renovated? Etc. these are all important details that you need to pay attention!
To see the photos, click the "View Photos" tab (you can see it in the screenshot). Then you can see the photos in the slide show.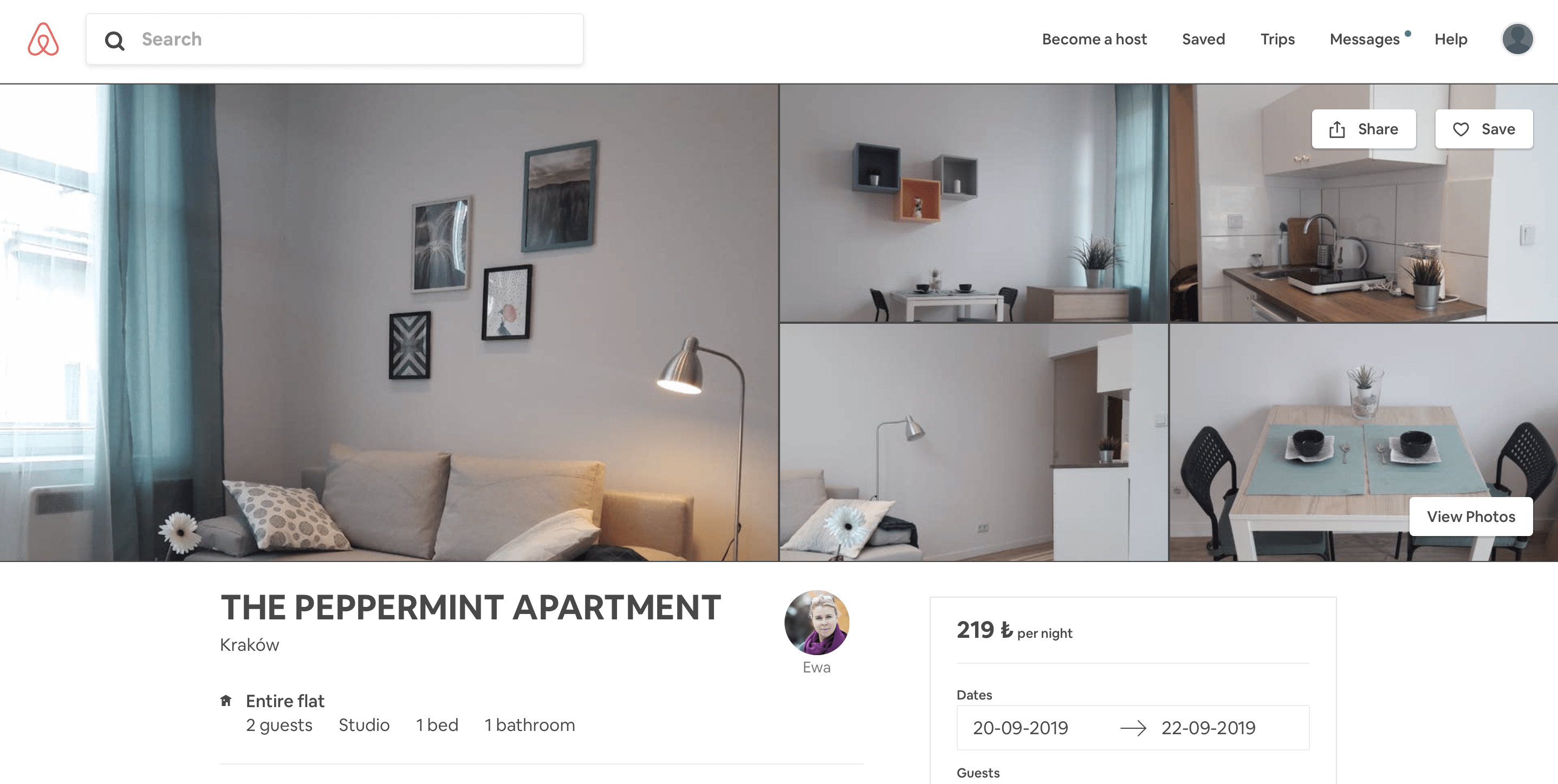 After reviewing the photos, more importantly, read the description carefully. The description parts, which are usually in English, may also be written in the local language of the country where you will be staying. At this point, you can use the Airbnb translation feature. In the article, the owner of the house we chose for booking in Krakow wrote the explanation part in Polish (the official language of Poland). In this case, you can display it in Turkish by clicking on the "Translate This Description into Turkish" button below.
Assessment of Airbnb Houses: Reviews
In addition, there is an enormous benefit in reading recent Airbnb reviews. Because, if the ad/announcement for the house you like was published a few years ago, consider the possibility that many things have changed and become obsolete. You can also find out the questionable points about the house in reviews. (For example, general cleaning of the House or the noise coming from outside the house), it is better to choose another house by staying away from home ads/announcements with such comments.
But not every Airbnb comment may have the exact meaning. This may differ for every Airbnb user. To give an example, what one user doesn't like (not having an elevator in the House) may be ignored by the other user. Still, we can characterize the evaluations as a quality indicator. Basically, houses that have received an average rating of 4 stars and above (out of 5) are reliable.
Discount Code and Gift Coupon
Thanks to Airbnb, you have a chance to earn an Airbnb discount code for up to $ 5,000 in total. How? It's very simple. We click on your profile photo in the upper right corner on the home page. (In the green box in the screenshot) then click on" Invite Your Friends "
You can send your special Airbnb invitation link to your loved ones via "WhatsApp, Messenger, email" on the page that opens later. With the invitation link that you will send to your loved ones, you can gift a discount of £ 130 for their first trip. When your friend signs up with the link you send, they may use this credit for their trip of at least £ 250.
After your friend completed his/her trip, your account is gifted with worth 65 TL gift credits. If your gift credits do not appear in your account, this means that your friend's trip is not over. When your credits are automatically transferred to your account, you can view your credits on the payments page when you pay for your next trip. If you cancel a reservation that you created using your travel credit, your credits will not be available again.
Ps: if you do not have a friend that uses Airbnb you can earn 130 TL by clicking on the reference link down below. https://www.airbnb.com.tr/c/yunusemrey12?currency=TRY
Airbnb Commission: What Are the Extra Charges?
As you can imagine Airbnb does not provide services for free. There is a price for these services and Airbnb obtains this payment by taking a commission from each booking. Even though there is not a set commission price, Airbnb generally takes between 13-18% of the price of the booking.
As you can see below, it costs about 15% (79 TL) of the one-night (219 TL) fare multiplied by the number of nights added (2). Depending on where you choose, sometimes cleaning costs can be added.
Click "Reserve" to continue. Your final step to complete your reservation is, as you can imagine, the payment portion. You can choose credit card or PayPal as the payment method. Airbnb will recommend saving card details so you can make your next booking easier. This is entirely up to your preference.
After you complete your booking, you will see the confirmation page and Airbnb send you a mail that includes the summary of your main booking information. In this mail, you'll find the detailed address of your host and his/her phone number. After reading this mail carefully, we recommend keeping it or printing it out a copy to not have problems if you accidentally delete the mail.
Reservation/Check-in Day: Key Pick Up/Exchange
It is always good to call and get in touch with your host a couple of days before the booking date if you haven't already.  Make sure he/she know when you'll arrive. Since the host is going to show you the house, in case of any delay, it is better to notify them. Keep in mind that you are not staying at the hotel and that someone is waiting for you and act accordingly. As you can see, no one likes to be kept waiting. Of course, you pay the landlord to open your house, but at this point, you have to be sensitive.
When you arrive at the house, the person who greets you will introduce you to the house, show you how things work, and answer if you have a question. Airbnb wants you to have a great experience, so don't hesitate to ask your host about the house and region!
Is Airbnb Safe?
Airbnb is totally safe as a platform. For its registered users, it cannot investigate everyone and guarantee whether the person is trustworthy or not. It expects users the understand and decide if the person they are contacting is safe, trustworthy or not. You can find out this by looking at the rating scores of the hosts and the personal comments they received.
Still, Airbnb gives security advice to its users and takes swift action in a possible security breach by keeping guests' phone number, email address and credentials registered in its system.
How Does Renting out your own home work?
Before we start, if you have not already registered to Airbnb, you can create an account by taking a look at Airbnb Account registration part as we mentioned before (you can sign in if you have an account already).
You will then be directed to a page that asks you to enter the most general features of your home by clicking on "Add registration" in the upper-right corner of the home page.
First Step: House Type, Guest Number, and City

Home Type
This option is quite easy, it includes the whole house, private room, and shared room option.  Choose the option that you will be renting out. This choice is important because both you and your guests might have different ideologies about maintaining a certain level of privacy. So, make sure you're properly building your record to attract the most appropriate guests to your home.
Guest number
This option allows you to select the maximum number of people you want to host in your home. Calculate how many people can stay in your home based on the condition of your bed, seat or inflatable mattress. Finally, select the appropriate number from the drop-down list.
City
When writing the name of your city, Airbnb automatically recommends relevant matches to you. You can easily select your city.
Click on "Continue". Go to the next part of the 1st step. In this section, you will be asked to provide more detailed information about your home. Options: apartment, home, unique area etc. includes. You should choose the most accurate description of your home.

After selecting your entry type, you must select "Location Type" in the second option. For example, if you logged in as an "Apartment", you would also need to specify whether it was an apartment, shared property, penthouse, or one of the other options. Depending on your selection, another menu will open for you to fill out. As you move forward, you will provide more detailed information about your registration, including the number of guests, beds, bathrooms, the exact address and the amenities you offer.

Choosing "Amenities" for Airbnb is crucial. Here, it has a wide range of features, ranging from public amenities to security measures. At this stage of the entry, you can only choose from a list of available possibilities, but once the entry is created you can edit it here and add more descriptions and details.
We complete the amenities part and click on the next option, and we see a form where you can specify which areas Your Airbnb guests can use. The options are pool, elevator, Jacuzzi, gym etc. We finish this part and click on the" Finish " button.
2nd Step: Title, Description, and Photos
For the second step, after uploading photos of your apartment to the Airbnb site and writing its brief description, you can write to potential guests during their stay, what they can expect from their area and how they can tour the city
Photos

The first 3 photos are important for guests to decide to click on your registration. In this case, it would be good to present some conspicuous interesting photos. Airbnb recommends using Airbnb professional photography (1024 x 683 pixels) to get better resolution. It even offers free professional photo shoots to help you showcase your home at its best.
Title and Description
You must first write a title to your record. Think of the title as your first impression. You have to make it 35 characters, engaging and unique. You can try using descriptive and pleasant adjectives to beautify your title. The description section allows you to describe the basic features of your record with 500 or fewer characters. You can make it shine by explaining exactly what makes your home unique. Too much writing can seem daunting, so we recommend not writing too long.
3rd Step: Reservation Settings, Calendar, and Pricing
The last step consists of 3 parts: reservation setting, calendar, and the price.

Reservation Settings
In this section, you will examine Airbnb's basic Guest Requirements and upload your state-issued ID card to the system. The next step is to determine your Airbnb home rules (such as for guests to climb stairs or find their own parking space) and provide important information about your home and neighborhood.
Calendar
To start publishing your record, you'll choose how often you want to see your guests at your house, what they need to pay attention to before your guests arrive, how long they can reserve your place in advance, and how long they will stay. Then, you can manually change your Airbnb calendar. You can block specific dates or even the entire month. Dates eligible for rental should be entered as soon as you post your entry and updated regularly.
Pricing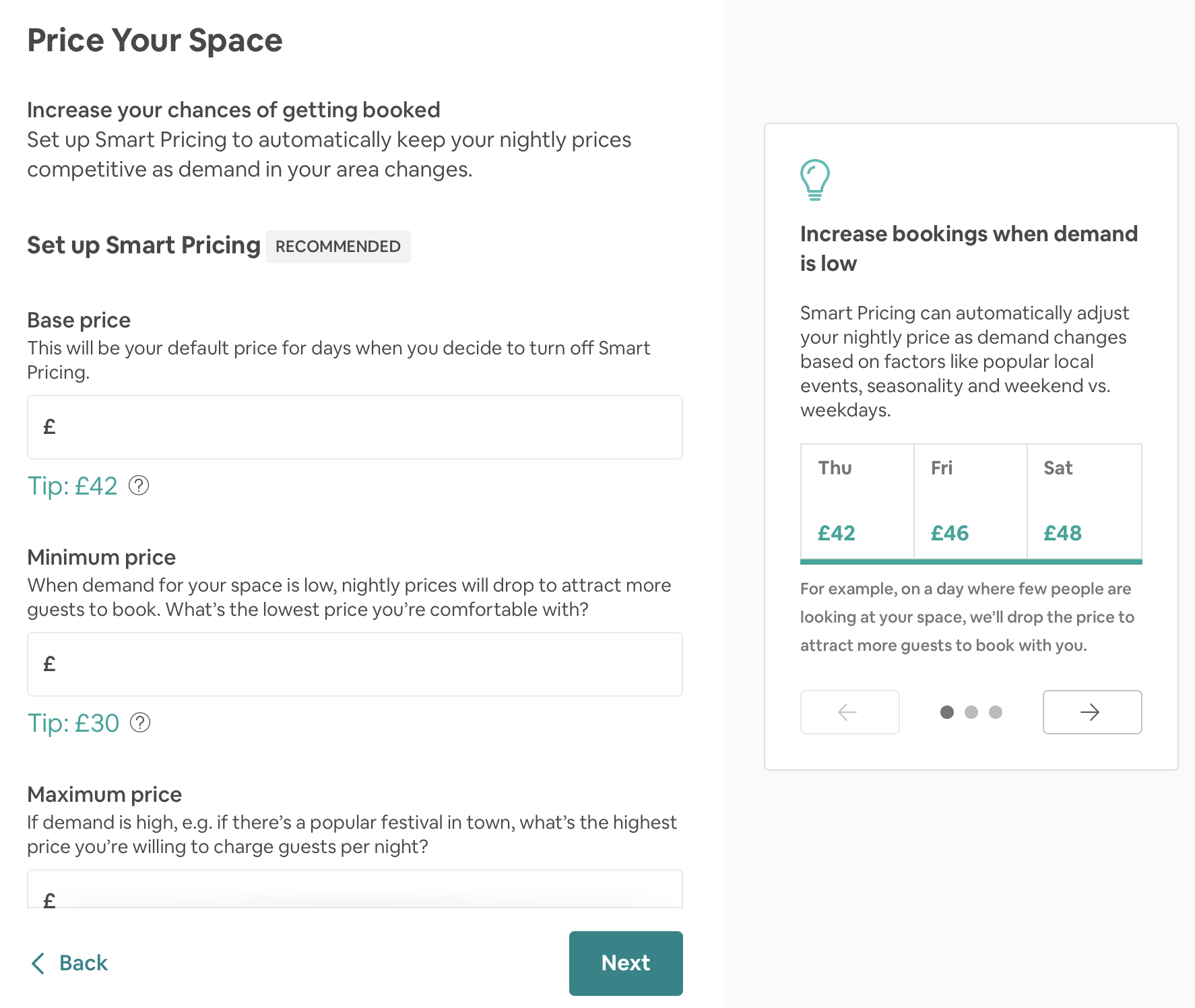 Airbnb will offer the option of using Smart Pricing, which will automatically update your prices based on demands in your area. It's important to stay competitive, so if you're going to turn off Smart Pricing you should compare the prices of similar Airbnb ads/announcements in your area. You will then set the minimum, maximum price and the currency you want to charge your guests.
You can tailor your list's going rates by creating weekly or monthly packages to encourage longer rentals. In addition, Airbnb also gives you the option to add additional cleaning fees to the price. The final step in the pricing section is to help you attract guests and get initial comments about your registration, you can set a 20% discount for your first 3 guests, or weekly, monthly discounts for guests booking longer stays.
The Last Step: Publish Your Airbnb Record
When you follow all these steps, you'll be ready to publish your record on Airbnb. One of the things you must keep in mind that always be honest in the description part. Because you might have problems when the guests arrive, and the truth comes out.
Insuring Your Home by Airbnb
As soon as a guest makes a reservation at your home, you are covered by Airbnb's Host Guarantee. In a way that we don't see much of in other companies, Airbnb covers damage to property registered up to USD 1 million. For example, if your guest causes physical damage in your home that exceeds the deposit, when you notify Airbnb about the matter, it takes care of the problem for you.
Airbnb who dedicates itself to create a safe society, also provides all the hosts with Host protection insurance. If a third party sues for physical harm or harm to the property, hosts are allowed to access Airbnb's Host Protection Insurance. Host protection insurance provides primary liability coverage of up to $1 million USD per occurrence.  In other words, if something happens to your guests in your house it is Airbnb's responsibility to take care of the guest.
Is Airbnb Legal in Turkey?
Is Airbnb Legal? if you think so, rest assured. It is legal to rent your home short-term with Airbnb as long as you meet certain legal requirements. When you want to host guests in your home with Airbnb, you don't take your guest's ID and register, like in a hotel. So, does that mean Airbnb isn't legal? Absolutely not. Guests staying at your home make their records via Airbnb and upload their identities to the platform via the system. Airbnb Turkey, on the other hand, makes the necessary legal notices through these records.
Airbnb Turkey Tax Regulations
Airbnb Turkey leaves the responsibility of local taxes to its users. Airbnb Hosts can only ask for the payment of local taxes when the accommodation is completed. They may receive the amount required for tax by hand or by submitting an additional proposal.
According to the Tax guide for Taxpayers Generating Rental Income published in 2018, those who earn a rental income of 500 TL and above, and for short-term leases, are obliged to make payments through bank and postal administrations regardless of the amount. And those who earn 3900 TL and above rental income, are obliged to declare their income. Airbnb tax rates payable vary depending on the amount of income. You can have access to the updated rental and tax-related legislation on that adress and get further info.

As can be understood from this information, Airbnb income may be subject to tax when it exceeds a certain amount. Since it is the ministry's job to carry out Airbnb tax review, Airbnb doesn't do it. Because of that, while renting out your apartment on Airbnb, it is important to have foresight on whether you will be subject to tax or not. In Turkey, Airbnb does not take responsibility for taxes, it is your responsibility fully to deal with payment and taxpayers' operations. Since it is your commitment, Airbnb does not make you pay a tax penalty, however, if you do not commit to your responsibilities, you might be fined by the ministry of finance.
Airbnb Payment methods
Airbnb payment methods vary from country to country. Because of that when you complete the process and move on to the payment part, you'll find appropriate payment methods for countries. You can carry out your payment by choosing the appropriate payment method for Turkey.
Also, you can change the payment method you chose previously during the booking process. To accomplish this, go to the Airbnb Account section and click on "Payments" made and received. Then you're free to change your payment method. If you add more than one payment method, you can cancel the previous ones by clicking on "Remove". If you want to access a payment method easily and want that to appear as the first one in the list, you can set it as "Default".
Airbnb Turkey Contact: Customer Service

Airbnb offers hosts and guests plenty of resources to solve their problems on their own and without the need for interaction. Airbnb publishes up-to-date articles on its Help page to answer its users' questions and curiosities. Through their publicly accessible articles, you can also find answers via Airbnb's Help Center.
Another Airbnb communication tool is the Solution Center. The solution center helps you in case you want or send more money. For example, if there has been a change in your booking amount and you need to send money or get a refund as a result of this change, you can visit the "Solution Center". If you need help, Airbnb Turkey will provide communication support to help you resolve your problem more quickly.
You can get help on many topics from Airbnb by clicking on "Contact Us" in the Airbnb Help Center. Categories on the page are; reservations, registration, and hosting tools, my Airbnb account, payments, refunds, and more, security, accessibility and discrimination. You can use this page to solve this issue that leaves a question mark in your mind by categorizing. If these articles can't help you, you can text or call Airbnb customer service by clicking "I Still Need Help" on the same page on the Airbnb site.
Professional management of your Airbnb houses with Missafir
You don't have time to take all these steps? We have great news! You are at the right address to receive these services from a professional team.
Problems of landlords who want to earn high with short-or medium-term home rentals:
Making announcements on only one or several platforms due to time/labor shortage.
Listing and doing photo-shoots amateurish
Creating pricing in a static way without data and market analysis
Not having enough time to keep in constant contact with potential guests
Not being available all the time for guests' check-in requests.
Lack of time for cleaning and linen washing/changing after a stay
Missafir's solutions to homeowners who want to earn high with short-or medium-term home rentals:
Profile and Announcement Management: profile and announcement management on the most popular platforms (Airbnb and 15+).
Professional Photos: we take professional photos of your house.
Guest Relations: for the peace and comfort of your guests, we provide contact support 24/7.
Price Optimization: we do market analysis with our expert team to maximize your earnings.
Interior Design: we give you expert decoration suggestions for your house.
Cleaning and Linen Change: we bring your home to the comfort of a 5-star hotel.
Maintenance & Repair: we solve your problems quickly.
24-hour Check-in/Entry: we provide check-in service at any time of the day.
Missafir has one condition for all these services: your house must remain empty for at least 8 weeks a year. You can use your house later in the year. The whole process works according to your request. Missafir is just directing.
All these services can now be found by filling out the form on our "Get an offer" page to find out how much you can earn from your home.